Remember Mario Paint for the SNES? I've begun watching some two Vargskelethor Joel (Vinesauce) streams showing his gameplay on both Mario Paint and Mario Artist for the 64DD. So I decided to make my best on the SNES game, using only the sprayer in order to make some arts. I've made two paintings on Mario Paint, using only the sprayer, and... I thought that it was actually pretty good, despite not being too realistic looking, it's kinda great and feels nostalgic with the MS-DOS looking graphic that I've made on the paintings. Here's the two screenshots taken from the SNES9x emulator.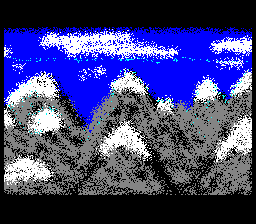 The first one is winter mountains. My first attempt on making this. Like I said, I used the sprayer rather than the brush tool. Looks like a picture that was straight out from a MS-DOS game, or only made on the old versions of Microsoft Paint. I kinda messed a bit with the cyan color, as noticed on picture, because I used the cyan color as background but I changed to blue instead.
The second is a river and trees. Only used the blue color as background, put some black to make some distant trees and some waves on the river. What do you guys think of this? Let me know on the comments!